Posts for tag: cosmetic dentistry
By Metcalf Family Dentistry
February 14, 2021

Instagram, America's humongous digital photo and video album, is chock-full of the silly, mundane, and poignant moments of people's everyday lives. That includes celebrities: Tom Hanks buying a used car; Ryan Reynolds sporting tiny sunglasses; Taylor Swift and Ed Sheeran taking a hike. And then there's former Olympic alpine skier, Lindsey Vonn—posting a video of her recent dental visit.
Winner of several World Cup competitions and the first woman to gain the gold for downhill racing at the 2010 Winter Olympics, Vonn broke her two front teeth during a—you guessed it—skiing competition a few years ago. This past September, she went to the dentist to update her restoration and gave her followers a fascinating firsthand look at dental bonding, a technique for repairing a chipped or broken tooth.
Although dental bonding has been around for decades, it's taken a leap forward in the last few years because of improvements in bonding material. A mixture of plastic and glass components, composite resins can produce a strong and durable result when bonded to teeth. To begin the technique, the tooth's surface is prepared so that the composite resin can better adhere. Along with an adhesive agent, the bonding material is applied as a paste, which makes it easier to shape and sculpt for the most realistic look. This is usually done layer by layer, with each individual layer hardened with a curing light.
The technique allows us not only to achieve the right tooth shape, but also to incorporate your natural tooth color. We can tint the composite resin as we work so that your restored tooth blends seamlessly with the rest of your natural teeth. The result: A "new" tooth that's both beautiful and natural-looking.
What's more, dental bonding is more affordable than veneers or crowns and can often be done in a single visit. You will, however, need to exercise care with your new restoration. Although highly durable, it can be damaged if you bite into something hard. You'll also need to watch foods and beverages like tea or coffee that can stain the dental material.
Even so, we can help you regain the smile you once had before you took your teeth skiing—Lindsey Vonn-style—or whatever you were doing that resulted in a "whoopsie." All it takes is a call for an appointment to start you on the path to a more attractive smile.
If you would like more information about cosmetic dental enhancements, please contact us or schedule a consultation. To learn more, read the Dear Doctor magazine articles "Repairing Chipped Teeth" and "Artistic Repair of Front Teeth With Composite Resin."
By Metcalf Family Dentistry
January 05, 2021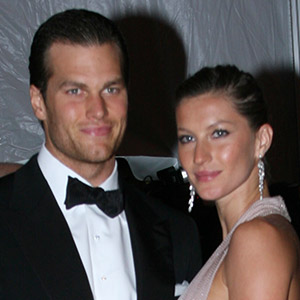 Love at first sight—it's an endearing notion found in movies and novels, but perhaps we're a little skeptical about it happening in real life. Then again, maybe it does once in a blue moon.  According to supermodel Gisele Bündchen, something definitely happened the first time she met pro quarterback Tom Brady in 2006. And it all began when he smiled.
"The moment I saw him, he smiled and I was like, 'That is the most beautiful, charismatic smile I've ever seen!'" Bündchen said in an article for Vogue magazine. That was all it took. After a three-year romance, they married in 2009 and have been happily so ever since.
Both Brady and Bündchen have great smiles. But they also know even the most naturally attractive smile occasionally needs a little help. Here are three things our happy couple have done to keep their smiles beautiful—and you could do the same.
Teeth whitening. Bündchen is a big proponent of brightening your smile, even endorsing a line of whitening products at one point. And for good reason: This relatively inexpensive and non-invasive procedure can turn a dull, lackluster smile into a dazzling head-turner. A professional whitening can give you the safest, longest-lasting results. We can also fine-tune the whitening solution to give you just the level of brightness you want.
Teeth straightening. When Bündchen noticed one of her teeth out of normal alignment, she underwent orthodontic treatment to straighten her smile. Rather than traditional braces, she opted for clear aligners, removable trays made of translucent plastic. Effective on many types of orthodontic problems, clear aligners can straighten teeth while hardly being noticed by anyone else.
Smile repair. Brady is a frequent client of cosmetic dentistry, sometimes due to his day job. During 2015's Super Bowl XLIX against the Seattle Seahawks, Brady chipped a tooth, ironically from "head-butting" his Patriots teammate Brandon LaFell after the latter caught a touchdown pass. Fortunately, he's had this and other defects repaired—and so can you. We can restore teeth as good as new with composite resin bonding, veneers or crowns.
This superstar couple, known for their advocacy of all things healthy, would also tell you a beautiful smile is a healthy one. You can help maintain your smile's attractiveness with daily brushing and flossing to lower the risk of staining and dental disease, regular dental visits, and "tooth-friendly" eating habits.
And when your teeth need a little extra TLC, see us for a full evaluation. You may not be in the spotlight like this celebrity couple, but you can still have a beautiful smile just like theirs.
If you would like more information on ways to enhance your smile, please contact us or schedule a consultation.
By Metcalf Family Dentistry
September 26, 2020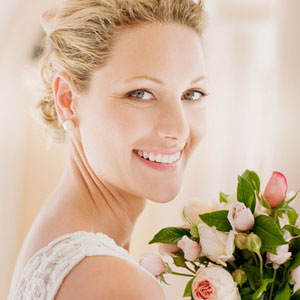 People improve their smiles for a lot of reasons: to better their career prospects, to put some juice in their social lives or just to do something special for themselves. But you may have an even stronger reason: a once-in-a-lifetime event—maybe your wedding day—is coming up soon.
You have several options for transforming your smile for the big day—and some are even quite economical. Here are 4 affordable ways to make your smile beautiful for that forever moment.
Cleanings. While dental cleanings should already be part of your regular dental care, scheduling one right before a big event can do wonders for your smile. Not only can your hygienist remove any lingering dull and dingy plaque and tartar, but they can polish your teeth for a brighter shine. Remember, though: dental cleanings support your own hygiene efforts, they don't replace them. Your own daily practice of brushing and flossing will also help you maintain a beautiful smile.
Teeth Whitening. You can also get an extra boost of brightness with a tooth whitening procedure. Using a professional bleaching solution and other techniques, your dentist can lighten your smile to your tastes, from a more natural hue to dazzling white. The whitening effect, though, is temporary, so plan to see your dentist no more than a few weeks before your big day.
Bonding. Perhaps a tiny chip is all that stands between you and a knockout smile. Your dentist may be able to repair that and other minor defects by bonding tooth-colored materials to the chip site. These composite resin materials have the shine of enamel and can be color-blended to match your tooth's natural shade. Composite resins are also fairly rugged, although you should avoid biting down on hard foods or objects.
Veneers. Although more expensive than the previous options mentioned, veneers are still affordable compared to crowns or bridgework. Usually made of thin layers of dental porcelain, dentists bond veneers to the front of teeth to mask mild to moderate problems like heavy staining, disfiguration and minor gaps. But because veneers are custom-fabricated by a dental lab, you'll need to plan them with your dentist at least six months before your event. The resulting change to your smile, though, may well be worth the wait.
If you would like more information on transforming your smile for a special event, please contact us or schedule an appointment for a consultation. You can also learn more about this topic by reading the Dear Doctor magazine article "Planning Your Wedding Day Smile."