Posts for tag: oral hygiene
By Metcalf Family Dentistry
February 19, 2020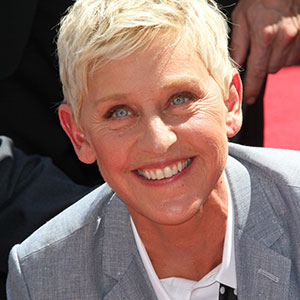 This year's Carol Burnett Award, presented at the Golden Globes, goes to Ellen DeGeneres for her "outstanding contributions to the television medium on or off the screen." This is the latest in a long list of honors for the comedienne, talk show host and activist that includes Emmys, Grammys and Teen Choice Awards. And one not quite as well-known: a 2004 "Flossy" award.
DeGeneres received this honor from the National Flossing Council in recognition of her passionate promotion of oral hygiene, particularly flossing. She wrote about its virtues in her 2003 book, The Funny Thing Is…., saying, among other things, "Don't even think for a second that you can get away with not flossing."
DeGeneres's motivational cheerleading for flossing is helpful and necessary because, well, many of us just don't like doing it. It requires more manual dexterity than its more popular sibling, brushing. And the tendency for the floss to gunk up with plaque residue for some is simply unpleasant.
Mainly, though, many folks think brushing is enough. Not so fast, according to dental professionals. While brushing removes disease-causing bacterial plaque from broad tooth surfaces, it can't effectively get into the spaces between teeth. It takes flossing to clear plaque from these more difficult areas.
But don't fret: There are ways to make flossing an easier—and more pleasant—task.
Ask us for help. As we said before, flossing does take some hand dexterity and coordination to perform. You may also wonder if you're doing it effectively. We can provide training and tips on how to be a more effective flosser at your next visit.
Practice, practice, practice. You probably think nothing of riding a bicycle, and yet it probably took you weeks or months as a kid to become proficient. Similarly, your first attempts at flossing might feel awkward, but you'll improve with practice, so don't give up.
Brush before you floss. Most people floss before brushing, but if you tend to encounter a lot of soft plaque debris that makes flossing "icky" for you, then try brushing first to clear a good portion of it out of the way before you floss. Just be aware, most professionals believe that flossing first is better because it loosens up debris between teeth so the bubbles from the toothpaste can carry it away. But any flossing is better than no flossing!
Try flossing tools. For some people, floss picks, small pre-threaded tools you can use with one hand, seem easier to maneuver than regular floss thread. If you have issues with manual dexterity, an oral irrigator can make the task easier: This handheld device uses a stream of pressurized water to loosen and flush away plaque between teeth.
So, follow Ellen DeGeneres's advice she gave Tulane University graduates during a commencement speech: "Remember to exfoliate, moisturize, exercise…and floss." The latter, along with brushing, will certainly help keep your teeth and gums healthy.
If you would like more information about best oral hygiene practices, please contact us or schedule an appointment. To learn more, read the Dear Doctor magazine article "Daily Oral Hygiene."
By Metcalf Family Dentistry
February 09, 2020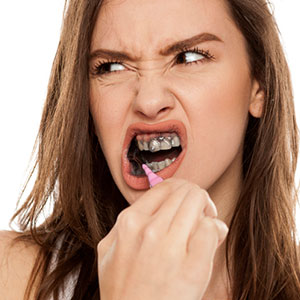 The Internet is truly amazing: It takes only a few seconds to tap into a vast store of knowledge to find information that once took people hours or days. But amidst all that helpful data, there's also some not so helpful information—in fact, some can be downright harmful, including to your dental health.
One particular Internet trend is brushing teeth with black, gooey substances containing activated charcoal. Scores of online videos featuring people doing this are getting viral views, perhaps more for the "gross" factor than the claimed health benefits.
So, why do it? Advocates of using activated charcoal for oral hygiene claim the ingredient kills harmful microorganisms in your mouth. The charcoal is also supposed to whiten your teeth.
But clinical studies of the practice, including one recently published in the Journal of the American Dental Association have been unable to substantiate these claims. There's simply no evidence that activated charcoal does what its advocates say it can do.
Unfortunately, there is evidence the practice can actually harm your teeth. This is because activated charcoal is an abrasive substance that over time could damage your teeth's enamel. Eroded enamel doesn't regrow, so eventually the more vulnerable dentin, the tooth layer just beneath the protective enamel, becomes exposed. It's not only darker and less attractive than enamel, its more susceptible to tooth decay and cavities.
The best way to care for your teeth, brushing and flossing daily, may seem boring compared to videos of brushing with charcoal, but it is effective—and safe. You should also see your dentist for more thorough cleanings at least every six months to round out your dental care.
And if you want a brighter smile, your dentist can perform a tooth whitening procedure that can give you months or even years of satisfaction. Professional tooth whitening (or even home whitening kits applied properly) also won't harm your enamel.
If you would like more information on the best ways to clean and care for your teeth and gums, please contact us or schedule an appointment for a consultation.
By Metcalf Family Dentistry
January 10, 2020
Howie Mandel, one of America's premier television personalities, rarely takes it easy. Whether performing a standup comedy gig or shooting episodes of America's Got Talent or Deal or No Deal, Mandel gives it all he's got. And that intense drive isn't reserved only for his career pursuits–he also brings his A-game to boosting his dental health.
Mandel is up front about his various dental issues, including multiple root canal treatments and the crowns on his two damaged front teeth. But he's most jazzed about keeping his teeth clean (yep, he brushes and flosses daily) and visiting his dentist regularly for cleanings and checkups.
To say Howie Mandel is keen on taking care of his teeth and gums is an understatement. And you can be, too: Just five minutes a day could keep your smile healthy and attractive for a lifetime.
You'll be using that time—less than one percent of your 1,440 daily minutes—brushing and flossing to remove dental plaque buildup. This sticky, bacterial film is the main cause of tooth decay and gum disease. Daily hygiene drastically reduces your risk for these tooth-damaging diseases.
But just because these tasks don't take long, that's not saying it's a quick once-over for your teeth: You want to be as thorough as possible. Any leftover plaque can interact with saliva and become a calcified form known as calculus (tartar). Calculus triggers infection just as much as softer plaque—and you can't dislodge it with brushing and flossing.
When you brush, then, be sure to go over all tooth areas, including biting surfaces and the gum line. A thorough brushing should take about two minutes. And don't forget to floss! Your toothbrush can't adequately reach areas between teeth, but flossing can. If you find regular flossing too difficult, try using a floss threader. If that is still problematic, an oral irrigator is a device that loosens and flushes away plaque with a pressurized water stream.
To fully close the gate against plaque, see us at least every six months. Even with the most diligent efforts, you might still miss some plaque and calculus. We can remove those lingering deposits, as well as let you know how well you're succeeding with your daily hygiene habit.
Few people could keep up with Howie Mandel and his whirlwind career schedule, but you can certainly emulate his commitment to everyday dental care—and your teeth and gums will be the healthier for it.
If you would like more information about daily dental care, please contact us or schedule a consultation. To learn more, read the Dear Doctor magazine articles "Daily Oral Hygiene: Easy Habits for Maintaining Oral Health" and "10 Tips for Daily Oral Care at Home."