Posts for tag: nutrition
By Metcalf Family Dentistry
January 15, 2021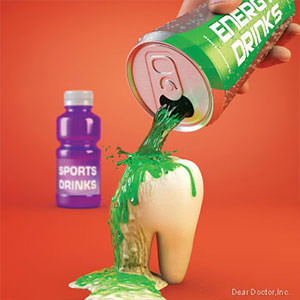 Although energy drinks are but a blip on the historical timeline compared to coffee or tea, they've displaced these traditional stimulants among nearly half of today's adolescents and young adults. But these sweetened "processed" drinks are also controversial among healthcare experts—particularly the effect they may have on dental health.
Besides the added sugar found in many energy drinks—a prime food source for harmful bacteria—many energy drinks and their cousins sports drinks contain significant amounts of acid. High levels of acid soften and erode tooth enamel, which can lead to tooth decay.
During one experimental study, portions of tooth enamel were subjected to a number of name-brand energy and sports beverages. Over the course of a few days, researchers recorded significant enamel loss, especially involving the energy drink samples.
Abstaining from both energy and sports drinks is a sound way to avoid enamel erosion (the best hydrator, it turns out, is simply water). But if you do wish to continue consuming these beverages, here are a few common sense precautions for reduce the risk of harm to your teeth.
Partake only at mealtimes. Among its many abilities, saliva is able to neutralize oral acid and bring the mouth to a neutral pH level within 30 minutes to an hour. But if you're sipping on high-acid beverages throughout the day, your saliva may not be able to compensate effectively. Drinking energy drinks only during a meal helps saliva do its acid-buffering job better.
Rinse with water afterwards. Rinsing with a little water after eating or drinking something acidic can help reduce the pH levels in the mouth. That's because water is by and large neutral on the acidic/alkaline scale. Because it's not adding more, rinsing with water dilutes any concentrations of acid that may still be lingering in your mouth.
Don't brush immediately. Brushing is essential to overall hygiene, but if you do it right after you eat or drink, you could be doing more harm than good. That's because elevated acid levels that naturally occur after consuming foods and beverages can temporarily soften and demineralize the surface enamel. Brushing could remove microscopic bits of softened enamel. If you wait an hour to brush, you'll be giving saliva time to "re-mineralize" your enamel.
If you would like more information on the role of beverage acid in dental disease, please contact us or schedule an appointment for a consultation. You can also learn more about this topic by reading the Dear Doctor magazine article "Think Before Your Drink."
By Metcalf Family Dentistry
June 28, 2020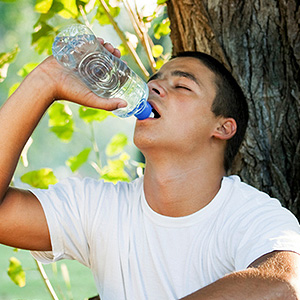 In recent decades civilization's millennia-long search for clean, safe drinking water has become much easier with modern purification methods. Today, there are few places in the United States without adequate access to potable water. And about three-fourths of the nation's tap water systems add fluoride, credited with helping to reduce tooth decay over the past half century.
But in recent years some have voiced concerns about the safety of tap water and popularizing an alternative: bottled water. Manufacturers of bottled water routinely market their products as safer and healthier than what comes out of your faucet.
But is that true? A few years ago a non-profit consumer organization called the Environmental Working Group (EWG) performed a detailed, comprehensive study of bottled water. Here's some of what they found.
Lack of transparency. It's not always easy to uncover bottled water sources (in some cases, it might actually begin as tap water), how it's processed, or what's in it. That's because unlike water utilities, which are rigorously monitored by the Environmental Protection Agency (EPA), the Food and Drug Administration (FDA) oversees bottled water production with less strenuous guidelines on labeling. Eight out of the top 10 selling brands were less than forthcoming about their water's contents in EWG's investigation.
Higher cost. According to the EPA, the average consumer cost in the last decade for tap water was $2.00 per 1,000 gallons (0.2 cents per gallon). The retail cost for even bulk bottled water is exponentially higher. It can be a costly expenditure for a family to obtain most of their potable water by way of bottled—while still paying for tap water for bathing and other necessities.
Environmental impact. Bottled water is often marketed as the better environmental choice. But bottled water production, packaging and distribution can pose a significant environmental impact. EWG estimated the total production and distribution of bottled water consumes more than 30 million barrels of oil each year. And disposable plastic water bottles have become one of the fastest growing solid waste items at about 4 billion pounds annually.
While there are credible concerns about tap water contaminants, consumers can usually take matters into their own hands with an affordable and effective household filtering system.  EWG therefore recommends filtered tap water instead of bottled water for household use.
If you would like more information on drinking water options, please contact us or schedule an appointment for a consultation. You can also learn more about this topic by reading the Dear Doctor magazine article "Bottled Water: Health or Hype?"